SuperForm Authorized Dealer
SuperForm is a family-owned company with a vision of building a better future. They produce high quality and sustainable building products, providing customers with peace of mind and confidence that their projects will be built efficiently, reliably, and have the ability to withstand even the most extreme elements Mother Nature has to offer.
SuperForm ICF is strong, secure, resilient, cost-effective, easy to use and environmentally sustainable. We offer a wide variety of block configurations and insulation products from SuperForm to meet any building requirement: residential, commercial, agricultural or industrial.
SuperForm ICF gives you the confidence that your investment will stand the test of time.
Our wall system keeps your home warmer in the winter and cooler in the summer, keeping you comfortable while reducing your energy costs.
SuperForm ICF is resistant to the potentially devastating effects of extreme weather and long-term erosion. Whether you need to stay safe or just stay comfortable, SuperForm ICF protects.
Why Homeowners Love the Features & Benefits of a SuperForm ICF Home.

Unmatched Comfort
Thick continuous panels on each side of the concrete wall create a better living experience. You will love the quiet, draft free, experience you get from living in a SuperForm ICF house.
Energy Efficient
The combination of thermal mass, an airtight structure, and zero thermal bridging allows for a year-round energy savings of up to 60% and can easily meet Net-Zero Energy requirements.
Design Versatile
Designed to meet any forming requirements from foundations to the eaves, ensuring your ICF home can be designed and built to suit your dreams. With ties every 6", fastening interior/exterior finishing's of your choice has never been easier.
Sustainable
SuperForm ICF walls are built with a combination of concrete and insulation that doesn't break down or lose R value over time. Your building will have infinite durability and lower maintenance during its lifetime. SuperForm ICF is 100% rot and mold/mildew resistant.
Disaster Resilient / Strong
SuperForm performs at such an incredible level making it an easy choice for your build. Due to concrete in SuperForm ICF curing 30% stronger than conventionally formed concrete, it handles everything thrown at it such as fires, tornadoes, hurricanes, or high winds up to 400 km/h (250mph). SuperForm will stand the test of Mother Nature, saving homeowners and building owners the stress of rebuilding their projects.
SuperForm ICF helps you maximize both your time and your budget. Our wall system is easy to install and incorporates six construction steps into one, saving you valuable time and effort on the job-site, allowing you to finish jobs faster without sacrificing quality.
SuperForm ICF is the strongest insulated concrete form in the industry, ensuring your builds have the quality materials required to stand the test of time and giving you peace of mind during concrete placement.
With SuperForm ICF you'll lighten the load for your crew, be able to work through adverse winter conditions, and move on to the next job faster than ever.
Why Installers Love the Superform Block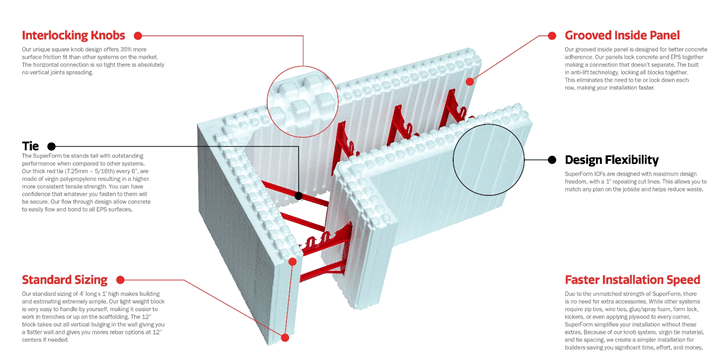 Build a better future with your complete insulation package by checking out their products below:
– ICF Series

– Insulation Series
– Accessories Series